Equipment Spotlight: Tensile Testing Machine
Tensile Testing is a fundamental part of mechanical testing in which a sample is subjected to an applied force until failure. The most common use of a tensile test is to determine the young modulus, or modulus of elasticity, of a material. These test results are used for material selection, quality control and for predicting how a material will react to various forces.
The MARK-10 ESM750S Tensile Tester is a single-column force tester configurable for tension and compression measurement. For 3D printed products, the tests performed using the MARK-10 are essential for product design and improvement. Tensile properties should be determined based on the project, 3D printer used, and for each orientation of the print.  Austin Reliability Labs' onsite 3D printing capabilities can provide rapid production of test specimens with consistent attributes, such as cross section and gauge length.
Designs based off of erroneous material characteristics have a high likelihood of failure. With the knowledge of the strength of the material, designs can be improved leading to safer and more reliable products.
Tests:
Tensile Strength

Compressive

Flexural Strength

Creep

Shear

Frictional Coefficient
Materials Tested: (both 3D printed and conventional parts)
Plastics

Polymers

Elastomers

Ceramics
Capacity:
750 lbF (3.4 kN)

14.2 in (360 mm) travel
Standards:
ISO 17296

– highest safety requirement for 3D printed parts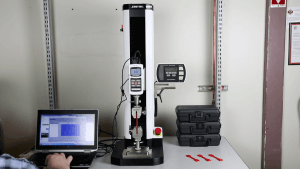 Mark 10 displaying a readout of a material's stress strain curve